Soundtrack now available free,
here >>
"A beautiful masterpiece", "inventive, moving and unrelentingly funny", "a deft statement on games and how we play them" - Little Inferno is an unusual game filled with surprise and wonder, and even better the less you know about it before playing! Reviews >>
Congratulations on your new Little Inferno Entertainment Fireplace!
Throw your toys into your fire, and play with them as they burn. Stay warm in there. It's getting cold outside!
Burn flaming logs, screaming robots, credit cards, batteries, exploding fish, unstable nuclear devices, and tiny galaxies. An adventure that takes place almost entirely in front of a fireplace - about looking up up up out of the chimney, and the cold world just on the other side of the wall.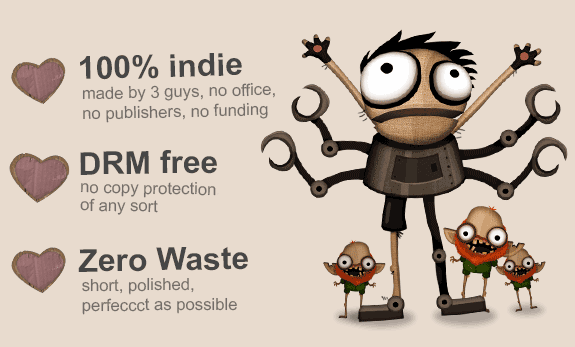 Win / Mac / Linux:
Ordering here directly from the developer gives the highest percentage of proceeds to the creators, and also gets you a Steam key as well as cross platform DRM-free versions.
Also available on Nintendo Switch, iOS, Android
Return to the world of Little Inferno with an all new scary holiday story, a mysterious new character, a new catalog, new toys, new combos, and lots of new holiday content to keep you warm.
What's in the expansion?
A scary new holiday story... something is coming!
A new holiday catalog with 20 new toys... with curious new properties.
A mysterious new character.
More than 50 new combos.
Infinite Yule Log. Start a fire and leave it burning for cozy ambiance.
The original campaign of Little Inferno is also always available to play.
If you bought Little Inferno from this website, you can use this widget to get the Ho Ho Holiday expansion. If you bought Little Inferno from a different store, you'll need to look for the expansion there. Handy links to other stores below.
Also on: Steam Epic GoG
Android iOS
Coming very soon on:
Nintendo Switch
Sign up to be alerted when more platforms are available:
"The test I want a good game to pass is simple: I want it to stick with me. I want it to seep into my thoughts days after I played it. Little Inferno is simple. It's somehow both quaint and bold. It lingers. It burns brightly. It burns well."
-Stephen Totilo, Kotaku (Read full review...)
"A beautiful masterpiece that everyone should try ... it might be the most compelling and beautiful indie game I've played all year.
Little Inferno takes you on a shockingly universal and emotional journey for a game with such a seemingly bizarre premise, and it does it with such calculated and masterful strokes, that you don't even realize it as it's happening. I can't even tell you how pleasant a surprise it was without spoiling it, but trust me, the game is well worth finishing."
-Alex Faciane, Gamezone (Read full review...)
"The creepy atmosphere, the single-minded focus on extremely minimal actions, and the mocking self-awareness all contribute to a deft statement on games and how we play them."
-Garrett Martin, Joystiq (Read full review...)
"On the first level, you have what is perhaps one of the most poignant commentaries that we have seen in video games, taking corporatism, consumerism, isolation, environmental concerns, and more and tying them all together in a brilliant (if understated) narrative. On the second level, it taps into the primal urge to BURN EVERYTHING IN SIGHT. Our ability to recognize and appreciate the subtext of the game while still enjoying the gratuitous nature of the gameplay may just add a third level to the mix, revealing the hypocrisy in us all."
-Andrew Nee, NegativeWorld (Read full review...)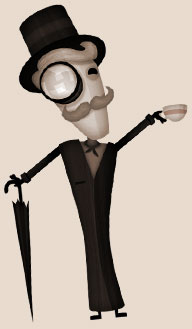 "In some rare cases a game functions not just as a game, but as a piece of art. Where the confines and rules of review refuse to fit snuggly. This is where Little Inferno sits, stubbornly existing in between the two ideals. After scrapping hundreds of words trying to bang a square peg into a round hole, I gave up. Here it is. Little Inferno: The Anti-Review"
-Nick Cane, Gamers Association (Read full review...)
"Like a lot of satire, it earns its more troubling insights by giving you a truly excellent ride. There's a real, if shameful, thrill to working your way through one catalogue of useless junk and unlocking the next while the oppressively cheerful 1950s sales muzak dips and dances from your speakers. There's so much humour in the items you buy, too - ageing buccaneer toys, planetary bodies that affect the fireplace's gravity, fake moustaches for making you feel more manly and spider nests for... Well, you'll see."
-Christian Donlan, Eurogamer (Read full review...)
"Heartwarming gameplay with a genuinely excellent story and a soundtrack I can honestly describe as beautiful, haunting and incredibly varied at the same time...
Little Inferno has the honour of being called the first great Wii U game. Inventive, moving and unrelentingly funny, you owe it to yourself to buy it. It's on PC, Mac and Linux too. You have no excuse."
-Robin, Cubed Gamers (Read full review...)